Get Your Fix
Whether you want to add Tanna's Botannas to your next party, or just want to grab some for yourself, take a look at all the ways you can enjoy!
Tanna's Botannas
📍4426 S. 6th Ave Tucson AZ, 85706
📍954 W. Prince rd Tucson AZ, 85705
Wednesday-Sunday 1pm-8pm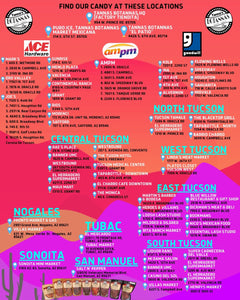 Shop Our Products local
You can find Tanna's Botannas and Puro Ice I'm over 85 local stores in Arizona!
Meet Tanna
Founded in 2020, Tanna's Botannas was driven and created by the love I have for Mexico! From the vibrant colors, delicious food, loud music, and beautiful scenery! The inclusiveness that comes while being apart of the Mexican culture, I was inspired to create this business. Our line of spicy candy, and rim dip is just the beginning of much more to come. As we like to call it-exactly what it is– PURO FUEGO! Enjoy every bite, you deserve it! Viva Mexico!
-Tanna Cole